Full Name: Elissa Maia
Nickname(s): Eli, Liss, Lissa
Gender: Female
Sexuality: Straight
Birth date: September 12
Age: 23
Physical appearance: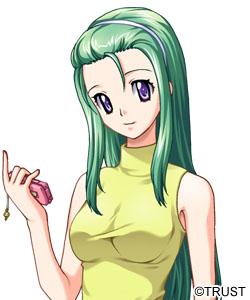 Elissa has long straight green hair and large violet eyes, traits inherited from her Turuamian lineage. She is average in almost every physical sense. She stands at 5 feet 6 inches and weighs 119 pounds. She is not very muscular, and is very on the lean side. She wears turtle-neck tank-tops of various pastel colors under blazers and knee length skirts along with black 3 inch heels for her work outfit. Out of her work clothes, she wears very flowy and looser fitting clothing, in pastels as well. She also has the occasion that she wears reading glasses.
Personality: Elissa is a calm person. She is very good at her job because of her nature. She is very focused and hones her skills well, being a top notch translator and linguist. She doesn't get offended easily and always tries to find ways to a peaceful situation. She dislikes violence and believes that violence is only a tool for the weak-minded. Even when she is mad or upset it is hard to see. She seethes quietly only letting her frustration and anger out when no one is around so she does not hurt anyone.
Background: Elissa, her older brother, and their parents came to Earth when Elissa was 3. The only person born on Earth in her family is her younger brother. Not really managing to live in one place very long, Elissa's family continually moved Northeast for 15 years until stopping in a Northern area of the North and Central American Region.
From her constant moves, Elissa was exposed to many different species and languages. When she could get work to help out her parents, it was usually in an area where there were a mix of languages (namely poorer areas and outskirts). She quickly became fascinated by how there can be so many words for one thing, and then devoted her life to learning all the languages she could, and making that her career as she grew older.
Now Elissa works as a sort of free agent with in the government, working from translating messages to and from allies to staying aboard ships to traslate mesasges from friendly or hostile ships.
Close relationships: Meerah Maia (Mother), Jodin Maia (Father), Kilar Maia (Older brother, 25), Kuron Maia (Younger brother, 18)
Current occupation (if applicable): Linguist and translator
Strengths: Knows many languages, quick learner, understanding, calm, quick writer/typer
Weaknesses: Fast talker, forgetful, kind of weak
Fears/Insecurities: Fears she'll forget something extremely important
Likes: Books, languages, new people
Dislikes: Fighting, video games, rap
Driving force: To help create peace between races.
Hobbies: Reading, speaking/practicing languages, taking walks in parks and visiting cafes.
Pet Peeves: People who interrupt, people who butcher language
What they are looking for in a boyfriend: Someone who wouldn't forget things like she does, someone with a bit more brawn than brain and looks cute to boot.
What they are not looking for in a boyfriend: A pure idiot who has no brain, is a jerk, and thinks that he's always right or is super cool when he's not.
Describe your character in three words: Forgetful Brilliant Linguist.
If your character were stranded on an island and could only bring two things with them, what would they be?: A book of languages and a fruit tree.
If your character could change anything about themselves, what would they change?: Be less forgetful.
Your character opens their fridge; what do they see?: Random stuff really, and usually leftovers. And half full bottles of whatever.
Other:
Face claim- Rei Yashima from Ryoujoku Scout ~ Idol Dokusen Keiyaku ~
Voice claim- Zoe Saldana as Lt. Uhura from Star Trek
Theme song: Everybody Talks by Neon Trees
Love song: Say Something by A Great Big World ft. Christina Aguilera