Full Name: Elyador Grail
Nickname(s): Eli, Grail
Gender: Male
Sexuality: Straight
Birthdate: August 14th (Supposedly)
Age: 21
Physical appearance: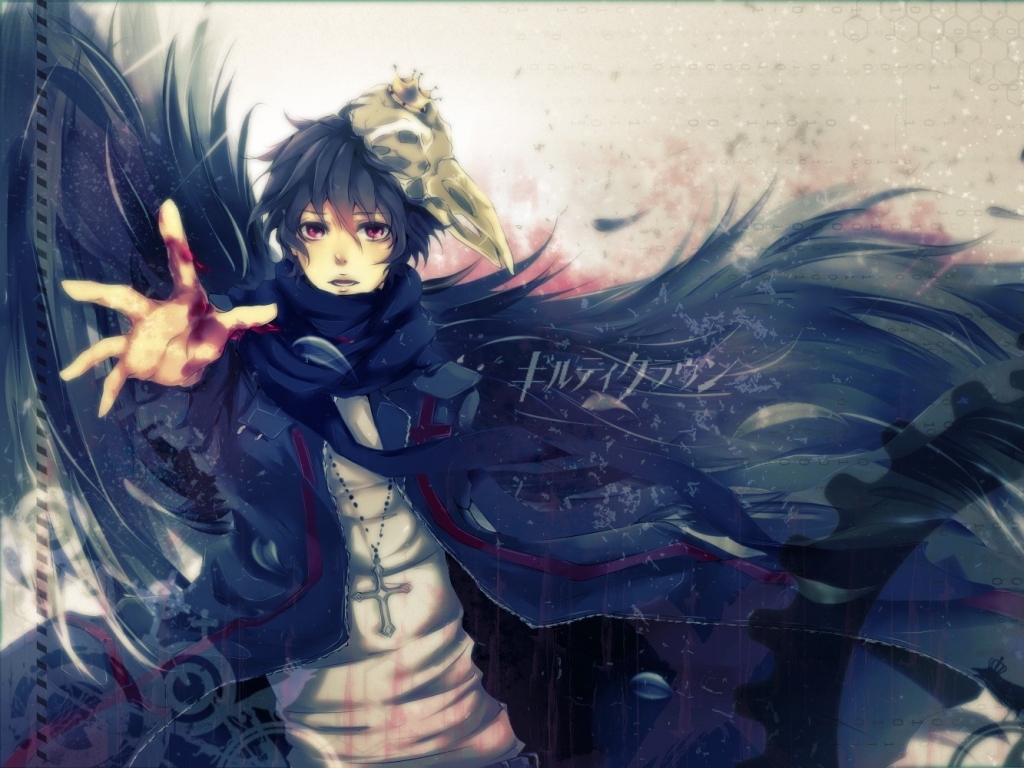 Due to Turumarian descent, Eli's hair is dark blue, with silver blue eyes. He plays on this heavily, wearing a large blue coat when it's cold. He is always seen with a blue scarf around his neck, no matter what he wears. In his casual clothes, he wears a simple white shirt and jeans, and usually has sandals. Around his neck is a silver rosary, which is usually hidden under his shirt. Due to his lanky stature he is tall (6"4 to be exact) and is light (120lbs), making him nimble and quick. This is contrasted to his weak strength, the heaviest he can lift being a crate. Eli can sometimes be seen wearing a skull on his head, but only in very specific situations.
Personality: It is hard for Eli's emotions to match his expressions, his face being a mask of apathy most of the time. Despite this, he is incredibly emotional. He has also been described as eccentric. No one can describe how he does something or why he does it, and he isn't about to explain. Eli is undeniably loyal, helping people he doesn't even know. He tries to make jokes, but no one knows when he does because of his monotone voice. He has a strange obsession with bones.
Background: Eli came to Earth when he was 19, changing who he was to hide his heritage. His parents were rebels, and Eli was a supporter. Not much is known about his past on his home planet, but all that is known is that he hides in ruins from time to time. When he came to Earth he holed up in a coffee shop, looking for work while he tried to get stronger, hoping to one day serve in the Military in some way.
Close relationships: None
Current occupation: Coffee shop worker
Strengths: Has a great understanding of the body and how it works, is a tactical genius in life or death situations, Unnaturally fast mover, Fast learner
Weaknesses: Has only a basic knowledge, Is chased by ghosts of his past, apathetic most of the time
Fears/Insecurities: That people will figure out who he is
Likes: Coffee, Hard workers
Dislikes: Criminals, His heritage, Himself
Driving force: To redeem himself by joining the Military
Hobbies: Expanding his bone collection, writing fiction of all kinds, training
Pet Peeves: When people are lazy
What they are looking for in a boy/girlfriend: Someone who wouldn't run in fear of him
What they are not looking for in a boy/girlfriend: Someone who takes advantage of him
Describe your character in three words: Weak Loner Archtype
If your character were stranded on an island and could only bring two things with them, what would they be?: A boat and oars
If your character could change anything about themselves, what would they change?: His heritage
Your character opens their fridge; what do they see?: Cheap food and drinks (He is a full time coffee shop worker)
Theme song: Kill your Heroes by Awolnation
Other: His scarf covers a swirling birthmark that he finds embarrassing.