Full Name: Kumiko Fujiwara (久美子 ku- "long time", mi- "beautiful", ko- "child")
Nickname(s): Kumi, Miko, Kumiko-chan
Gender: Female
Sexuality: Straight (although she usually doesn't show interest in any guys)
Birthdate: February 14
Age: 17
Physical appearance: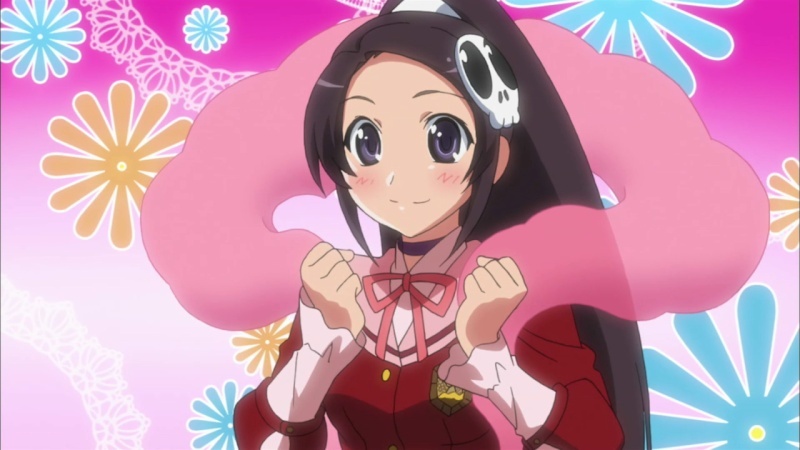 Kumiko loves her long, obsidian colored hair, having it up in a high pony tail. Her eyes are a rich brown color, in some lights they look almost black, and are shaped more like a Westerners, but still have a signature Japanese shape to them. She is below average height at 5 feet and 2 inches (157.5 cm). Her body type is barely curvacious. She has delicate facial features but is surprisingly strong compared to her looks. She's been told she's very attractive but she doesn't seem to care.
When not in her school uniform or her work uniform, she likes to wear short skirts with colorful tights and black shoes, form fitting sweaters with button up shirts underneath. Her style could be classified as preppy.
Personality: Kumiko is kind hearted, outspoken, and peppy. She enjoys clubs like debate and theater, as well as raising awareness for causes she believes in. Kumiko loves the idea of a perfect romance happening to her, she is a big romantic. She even tries to set up her friends sometimes in an attempt to play match maker. She thinks she's pretty good at it.
Background: Kumiko's family is an extremely wealthy family. They are apart of a multi-family company that patents inventions. She has lived in Tokyo her whole life, occasionally traveling to other parts of Japan with her family on business trips.
Kumiko loves her family and appreciates her wealth, but works to feel a sense of self-worth and to have fun outside of school and generate her own income.
Close relationships: Yuzuki Fujiwara (mother), Noboru Fujiwara (father), Kaito Fujiwara (older brother)
Current occupation (if applicable):Works at a maid cafe called the Akihabara Culture Cafe.
Strengths: Arguing, perserverance, hard-working nature, diligent, and honest
Weaknesses: Slight vanity, a little illogical, and disorganized
Fears/Insecurities: Fears she will be rejected by anyone person or group, insecure about people who want to be her friend because of her social and economic status.
Likes: Her job, debate, theater, her family, going to the beach with friends, reading very thick books
Dislikes: Creeps, know-it-all's, people who are oblivious to their obnoxious behavior, slackers
Driving force: She want's to become successful on her own, without help from her family
Hobbies: Debating, acting, spending time with her family (specifically her older brother), spending time in the city on nice days
Pet Peeves: Bad manners and etiquette, people who drink regularly, bad hygiene
What they are looking for in a boy/girlfriend: Kumiko looks for someone who can take her on adventures and make her life that much more fun. She would like someone who is active and would help her to be more so. Also, someone who doesn't care about her money (or even know about it).
What they are not looking for in a boy/girlfriend: A gold digger or a someone who is already rich who wants more. She would never date someone with bad morals or bad hygiene. She isn't looking for someone just interested in a piece of arm candy either.
Describe your character in three words: Cute, Intelligent, Kind
If your character were stranded on an island and could only bring two things with them, what would they be?: A change of clothes and a large tarp to make into a tent or hammock.
If your character could change anything about themselves, what would they change?: She would like to come from a 'regular' family
Your character opens their fridge; what do they see?: Sushi, Sashimi, Onigri, Chazuke, Udon, and Ramen. Also, there are lot's of fresh fruit juices.
Other: Yuzuki had an affair with an international business partner a few years after having Kaito, and convinced Noboru that the child was his. This child being Kumiko. The family is still strongly tied together, but there have been suspicions as Kumiko grew up.
Face claim- Elsie from The World God Only Knows
Voice claim- Monica Rial as Mirajane Strauss from Fairy Tail
Theme song/Love song:
Chin Up Buttercup
by Romance on a Rocketship