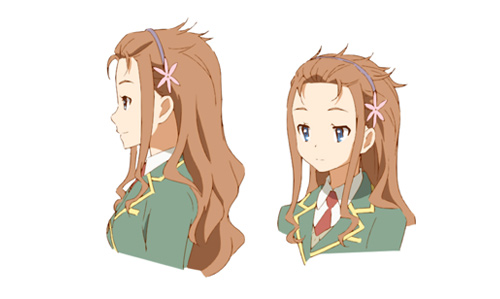 Full Name:
Ren Mizushima (Water Lily Island; 水嶋蓮)
Nickname(s):
Ningyo-Chan, Mermaid Girl, Pool-Chan, Water Girl, Water-Frenzy, Fishu-Chan, Mizu-Chan, Ren-Ren
Gender:
Female
Sexuality:
Questioning
Birthdate:
May 20th
Age:
16 (just turned 16)
Physical appearance:
Ren has brown hair and blue eyes, most Japanese people don't have these traits. This is because of her breeding as she isn't fully human. Ren's hair reaches past her waist and is always shown with her bangs held up by a hairband with flowers on the side. She purposely curls the front of her hair to give it a cute vibe. She is always swimming so it causes her to get muscles here and there. She also stands 5 ft 4 ins and weighs 125 lbs. In Ren's mermaid form she has a very dark mermaid tail with light blue accents. This includes her shell bra and all. She also wears a crown made of gold.
Personality:
Ren is obsessed with swimming, the mention of water or even a pool sends her into a frenzy. She just naturally feels calm in the water. She just naturally feels calm in the water. Most of her friends pick on her when they go out, she finds it funny and it doesn't really bother her much. Ren isn't big on responsibility or deciding things, she usually leaves that to her mom and her mom doesn't mind it that much. If she is faced with a problem her mom can't handle she usually goes sit in the bathtub for hours on end, of if she's lucky she'll go to the ocean and swim to clear her mind. Though Ren can be swayed easily she doesn't believe her mother that her father died. From what her mother said about him being an amazing shipman there was no way he could go to sea and just die. Ren also likes testing her limits but swimming as far as possible.
Background:
Ren's mother's family were all fishermen. Her mother had been raised listening to the story of the merfolk that lived by the shore of their town. When she turned 18 she took one of the fishing boats out to sea and it crashed on some rocks, she didn't die but she was injured in the accident. She was then found by a merman and spent the night together. Her mother thought she was going to die so she spent rather 'special time' with that merman not wanting to die a virgin. She finally was rescued and planned to meet him again. He kept a human form and lived with Tsuki for a long time, though he had to return to the sea. She didn't know what to say about it so she said he died in a ship wreck. Everyone believed it as he took his boat that they bought out to sea and it was never seen again. Ren grew up never knowing her father or even what he looked like, she decided she was going to be like him much to her mother's dismay. She now works in her mother's bait and tackle shop to raise money to buy her own boat and model it after her father's.
Close relationships:
Tsuki Mizushima (Mother), Unknown father (Presumably dead)
Current occupation (if applicable):
High school student and bait and tackle shop employee
Strengths:
Swimming, book smart, can hold her own in a fight, and fast.
Weaknesses:
Not very strong, not street smart, and water (because she always wants to be swimming)
Fears:
To die at sea like her father, sharks, anything really dangerous.
Insecurities:
She'll never really know what happened to her father and that she'll be alone forever.
Likes:
Swimming, the ocean, water, pools, baths, showers, boating, anything to do with water, and reading fairy tales.
Dislikes:
Seafood, anyone who hates the water, and those who hurt sea animals.
Driving force:
To find out what really happened to her father and live on the sea.
Hobbies:
Swimming, reading, and boating.
Pet Peeves:
People who throws trash in the water, people who pee or poop in the water, those who dam up water, just anyone who doesn't like water.
What they are looking for in a boy/girlfriend:
She's not looking for one at the moment but it would be someone who approves of her love for the water and help her look for her father.
What they are not looking for in a boy/girlfriend:
Someone who hates the water and abuses ocean life.
Describe your character in three words:
Super fishy girl
If your character were stranded on an island and could only bring two things with them, what would they be?:
A swimsuit and some food.
If your character could change anything about themselves, what would they change?:
The fact that she couldn't be a fish, she'd love to be a fish.
Your character opens their fridge; what do they see?:
No fish! Only healthy food for a fisherman.
Other:
*Her father was a Merman Prince of the Sea of Japan. He was going to stay with Ren's mother but left because his father died and he had to rule to stop chaos. Her father is currently on his death bed and is sending out scouts to find his only child alive to rule. Ren has no idea she is the daughter of such a royal man and has no idea that her time to rule will be coming soon. She actually would freak out about this whole royalty thing (which I plan her to freak out about, prepare for danger XD).
*When on her mother's ship, when she's alone she likes to swim nude.
*Ren can change forms at any given moment but currently doesn't know how to.
Face claim-
Hana from Humanity has declined
Voice claim-
N/A
Theme song/Love song:
N/A
Mermaid by Train (Love Song)