Full Name: Mai 真愛 (true love) Kobayashi 小林 (small forest)
Nickname(s): Shin-chan, Lovely, May, Mai-chin
Gender: Female
Sexuality: pansexual
Birthdate: April 30th
Age: 17
Physical appearance: Though Mai was born in Japan and has a Japanese father, her mother is American. She gets her green eyes from her mother and her dark brown hair from her father. She is 165 cm or 5'5" she weighs about 54.4 kg or 120 lbs. She has a very casual style and will wear things like shirts, jackets or sweatshirts that a bit too big or baggy on her, shorts or jean, and skirts or dresses that tends to be plain and not tight or constricting. She has both ears pierced but she usually only wears a very basic silver or gold stud. She most often wears her hair down with her bangs cut and styled diagonally in way that doesn't cover her eyes. When she is playing soccer, working in her garden, doing housework or working out she will often put her up in a messy bun or a ponytail. While she doesn't commonly wear makeup that doesn't mean she won't or hasn't worn any. She mostly reserves the use for special occasion when she wants to look nice.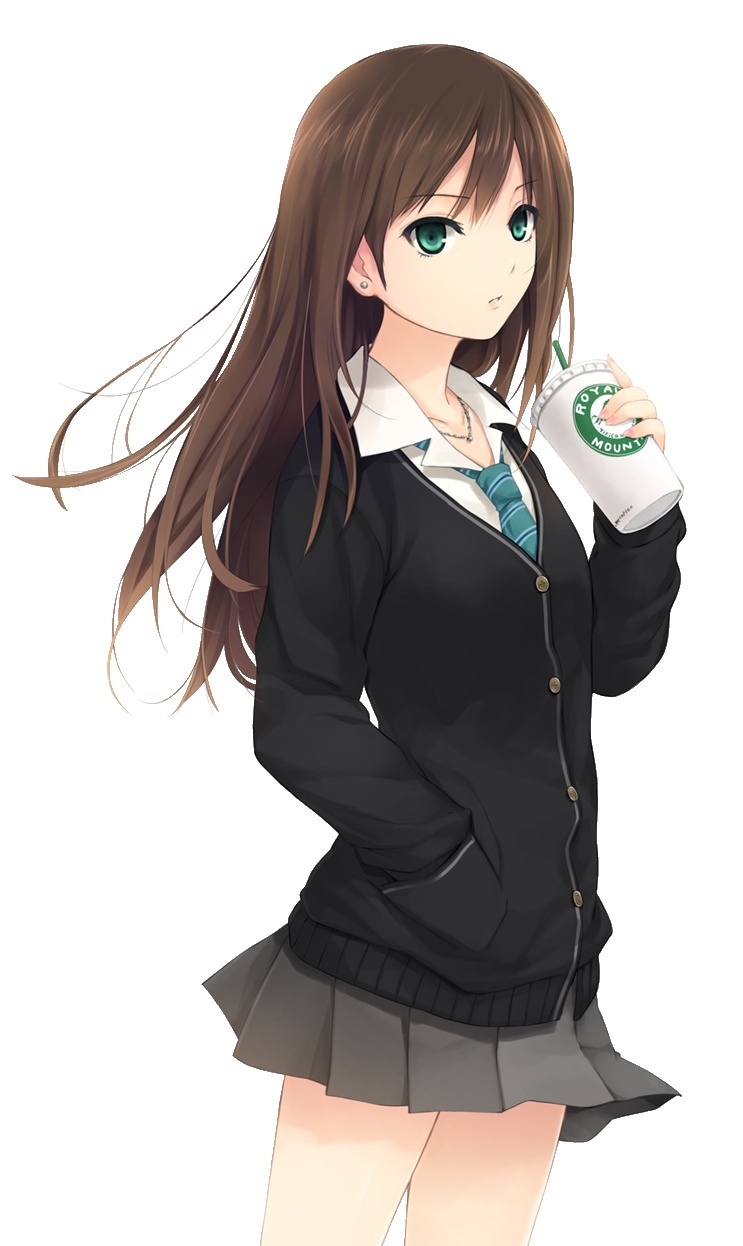 Personality: Mai is quiet, polite, a bit shy and a bit of a loner. While she likes people and desires to better help humanity she often feels awkward or uncomfortable around people especially in large groups or crowds. She is also very laid-back, loyal and accepting of people. She is honest and says how she feels but this can sometimes get her into trouble due to her lack of a filter.  She is very creative and is easily distracted so she can often be caught daydreaming and is disorganized. She is quite athletic but likes gardening and wants to open up her own shop.
Background: Her mother is an American woman who dreamed of discovering and experiencing other cultures by teaching English in different countries when one day she was offered a job at school in Japan. She worked in the school for several years before meeting Mai's father through a friend. Mai's father had just finished medical school and upon meeting Mai's mother told her that she was going to marry him. While she was a bit skeptical at first, over time they grew very close until she finally agreed to marry him.
Though Mai is their only child they have two cats named Ayame and Shōga. Shōga was given to them by a friend of Mai's father who was giving away her cat's kittens. Mai was 13 then and received Shōga as an early birthday present naming him after his orange coat.  Ayame however was a wild cat that was about 6 when Mai found her hiding in a bed of iris flowers. Though at first Ayame was very hesitant and ran from Mai, they slowly started to bond as Mai would visit the bed of flowers every day and bring little treats for her. Eventually Ayame grew to trust Mai so much that she followed her home. At first Ayame and Shōga hated each, both jealous of the other for invading their territory and taking up all the attention. It took some time but now they can tolerate each other a lot more and even have a bit of a "mentor-mentored" relationship where Shōga will follow Ayame around and playfully jump on he and sometimes she will allow him to and guide him to her favorite spots around the Kobayashi household or town.
Despite living so far away from the rest of her family, Mai's mother keeps in close contact with her mother, her brother and his family and often goes to visit them with her husband and Mai. Sometimes Mai will even stay at her grandmother's for the summer. Mai is especially close with her cousins on her father side to the point where they treat her like a little sister; her nickname, "Mai-chin", coming from them. She was given the nickname "May" due to a mix up when Mai's mother was informing Mai's grandmother about her birth. Her grandmother assumed that her name was "May" and not "Mai" and by the time she realized she was wrong the name stuck and Mai's mother's side of the family just began to call Mai, "May".  However, Mai's mother often calls her "Lovely" referring to the last character in her name meaning love. Her father in contrast calls her "Shin-chan" referring to the first character in her name which can also be read "shin" instead of "ma" and in reference to "Crayon Shin-chan".  Mai personally doesn't mind any of her nicknames and will answer to all.
While she had always known she was attracted to guys, as she got older Mai also noticed that she was also attracted to girls. She was confused at first but after talking it out with one of her cousins they came to the conclusion that Mai was probably bisexual. After this she started experimenting and found that the term "pansexual" more accurately described her due to the fact that the sex or gender that a person was or identified as did not matter to her. Mai has dated a few people but for some reason or another it has never lasted a very long time.  
Mai's fear of drowning stems from when she was younger and fell out of her Grandfather's boat. She was rescued before she could drown but since then she has always been afraid. This has also made her mother a bit protective of Mai. While she has relaxed over the years as Mai has proven capable of protecting herself she still asks her educator friends at Mai's school to keep an eye on her.
Mai's father was the one who first got her into soccer because he was a star player when he first was in high school. Though she has been playing for years, is always on her schools team and has won several awards she doesn't wish to make a career out of it. However she does find it fun and exciting.
Close relationships:
Mother: Kristin Loretta Kobayashi, English teacher, age 46
• Grandmother: Charlotte Alma Reese, age 68
• Uncle: George Michael Reese, car salesman, age 39
Father: Kenta Kobayashi, doctor, age 46
• Grandmother: Kana Kobayashi, age 70
• Grandfather: Jirou Kobayashi, age 73
• Uncle: Jin Kobayashi, computer engineer, age 52
    Aunt:  Suzume Kobayashi, computer engineer, age 53
    Cousin: Shizuka Kobayashi, policewoman, age 29
    Cousin: Kenji Kobayashi, college student, age 21
• Uncle: Sousuke Kobayashi, Journalist, age 39
Current occupation (if applicable): Student
Strengths: She is physically fit and good at physical activities likes sports. Mai is bilingual and is very fluent in both English and Japanese due to her mother's desire to keep connected with her family in America. She is also good at cooking and enjoys doing so with the fruits and vegetables she makes in the tiny garden she grows behind her house. She is also well-behaved and kind.
Weaknesses: Mai can't swim and tends not to be very motivated to do things that don't interest her. While she will do them if she has to, she is easily distracted and often daydreams. She is also quite messy and brutally honest. While she speaks English she does have difficulty in writing and reading English.
Fears/Insecurities: She fears being alone, forgotten and disliked. She also has a fear of drowning so she can't be in water that goes past her waist. As a result of this fear she cannot swim.
Likes: people, gardening and working with plants, playing soccer, cooking and daydreaming
Dislikes: She dislikes being the center of attention or in large crowds. She also dislikes the feeling of being constricted or restrained by clothing or rules. She also dislikes people with bad attitudes.
Driving force: She is driven by her desire to help the world.
Hobbies: gardening and playing soccer
Pet Peeves: Littering, selfishness and abuse of plants (due to ignorance or on purpose).
What they are looking for in a boy/girlfriend: The perfect partner for her would be someone who is more sociable than she is. It could be someone who is friendlier but also very shy or someone who is a social butterfly.
What they are not looking for in a boy/girlfriend: Someone who would try to manipulate, control, or change her would not be good for her. She would also not get along with someone with a temper or that is confident to the point of arrogance.
Describe your character in three words: daydreaming demure darling
If your character were stranded on an island and could only bring two things with them, what would they be?: She'd want a book on the islands flora and fauna so she could watch out for dangerous animals and learn which plants she could eat and how to grow them and she'd also want someone else to be with her so she wouldn't have to be alone.
If your character could change anything about themselves, what would they change?: She would want to be more daring and socially comfortable. She is often envious of and wishes she could be like people that can talk a lot and get along with others. She would also like to not be afraid of drowning. She tries to avoid swimming as much as possible but feels really embarrassed when ever her class is using the and she has to sit out or when she gets invited to a waterpark or the beach and she can't do as much as everyone else.
Your character opens their fridge; what do they see?:  Fresh fruits and vegetables from her garden, juice and milk, leftovers and her parents' protein shakes.
Other: Ayame (♀white) and Shōga (♂orange)
Face claim- Rin Shibuya from iDOLM@STER: Cinderella Girls
Voice claim- Christine M. Austen as Sakaki from Azumanga Diaoh
Theme song/Love song: Theme: Que Sera by Wax Tailor, Love: Dearest by Buddy Holly